Sure Bet Services


About Sure Bet Services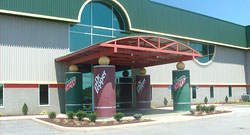 SURE BET is a full service vending & wholesale distribution company, operating in the Eastern Panhandle of WV, the northern counties of Virginia along with central Maryland. Our products include a variety of snacks & candy, cold beverages, hot beverages, and fresh & frozen foods. We also carry school approved and healthy food items. Personal touch service has been our building block and foundation. This is what we pledge to our customers and what you can expect from Sure Bet Services.
In just a short few years, Sure Bet Services, the full line vending division of an established cold beverage bottling company, has become a leading vending services company in a fast growing region. Sure Bet Services has become a major player in educational, government, health care and business and industry accounts.
Sure Bet Services was launched in 2003 by Royal Crown Bottling Co., based in Winchester, VA. Brothers Scott and W.E. Bridgeforth, third generation owners, recognized the need for a dedicated focus on vending. Like many cold beverage bottlers, the company operated vending machines for many years in addition to supplying beverages to third party vendors. The company has the distribution rights to several nationally advertised brands such as Snapple, Ocean Spray, Glaceau, Arizona, Yoo-hoo, Orangina, Nantucket, Stewart's, and others.
Sure Bet Services has emerged as a key player in the Maryland, West Virginia, and Virginia markets in a fairly short period time, thanks largely due to the owners' commitment to investing in state-of-the-art equipment and technology. The company demonstrates the critical role that technology plays in meeting the needs of a changing vending customer.
Call Sure Bet Services at (304) 724-5293 to discuss your vending needs. You may also complete our convenient contact form to receive answers to any questions you may have.